Solo Show
2021 Shozo Shimamoto GRANDI OPERE, CIAC, Foligno, Italia
SHOZO SHIMAMOTO | MAJOR WORKS
Curated by Italo Tomassoni
Centro Italiano Arte Contemporanea – CIAC | FOLIGNO
19th september 2021 > 1st may 2022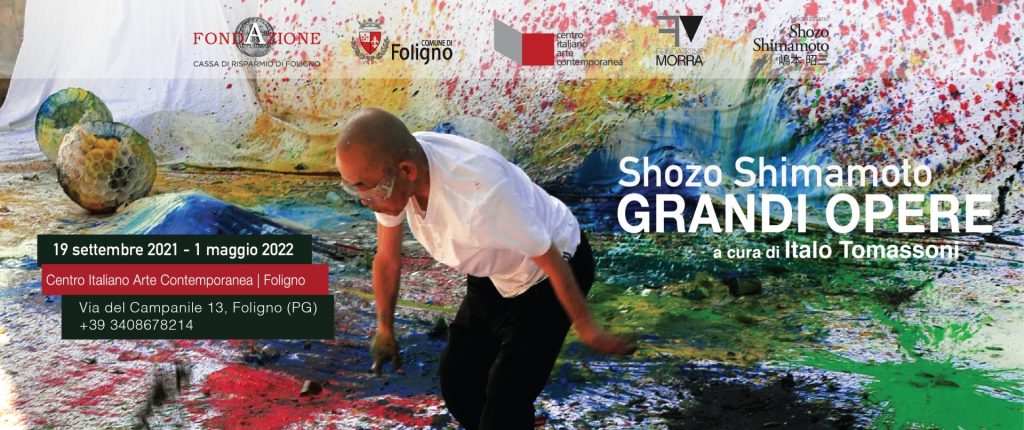 A wide-ranging retrospective dedicated to Japanese artist Shozo Shimamoto (1928 – 2013), curated by Italo Tomassoni, opens on 19 September at CIAC – Centro Italiano Arte Contemporanea in Foligno, and runs until 1 May 2022.
The "SHOZO SHIMAMOTO/GRANDI OPERE" exhibition takes place in collaboration with the Fondazione Morra di Napoli, supported by the Fondazione Cassa di Risparmio di Foligno, with the technical, logistic, and organizational assistance of the Associazione Shozo Shimamoto.
The exhibition offers a detailed and comprehensive review of the Japanese artist's career, from his first innovative experiments in the 1950s up to the more momentous and spectacular of the last years. In the 1950s, Shimamoto worked largely in the East and especially in Japan, but by the new millennium, he was working mainly in the West, performing many of his actions. The dialectic between these two phases in his output occurs within a unique and extraordinary artistic process. In the 1950s, he began exploring a new concept (and practice) in painting, working with gesture and paint marks, which later evolved into the 'happening'. In particular, "[t]he power of the mark, that Shimamoto endows with the most authentic meaning of his message, conditions the fluctuation of the paths of written signs that never appear "closed", developing freely in space, on the other hand, in search of unexplored passages driven by their inner dynamism" (Italo Tomassoni, from the presentation in the catalogue). Nevertheless, the large-scale events of recent years go beyond marks on canvas, favouring a sizeable theatrical edifice with their own dramatic and expressive autonomy, and taking place in public as a unique aesthetic event. For Shimamoto, the work "offers itself to the experience of the artist and the public as though spread out over time, on the infinite horizontality of liquid and multiple spatial displacements" (Tomassoni, ibid).
After a period of inactivity due to Covid-19, the Foligno Centro Italiano Arte Contemporanea opens with an exhibition reflecting its global outlook through this retrospective of Shozo Shimamoto's historically most significant works. The collection starts with Shimamoto's earliest pieces from his time with the Gutai Group, moving on to Japanese calligraphy, and culminating with the explosions of colour that characterize his Italian works. The Grandi Opere chosen for this exhibition underline how Shimamoto's most extraordinary creativity coincides with his use of large surfaces, a constitutive element in his work, denoting both total fullness and, at the same time, a boundary to be continually overcome using colour and matter.
Shimamoto's large canvases on show at the CIAC take the viewer on a journey that starts with gesture and mark, moving on through colour and contending with matter until it penetrates the deepest and "other" meanings of form. Suspended between heaven and earth, Shimamoto's artistic gesture creates through these works an empathy beyond time and space.